VANCOUVER, Canada, April 18, 2023 - Bold Therapeutics, a clinical-stage biopharmaceutical company developing first-in-class oncology therapeutics, announced positive interim results from a Phase 2 clinical trial evaluating BOLD-100 in combination with standard-of-care chemotherapy for the treatment of advanced colorectal cancer at the American Association for Cancer Research (AACR) 2023 conference.
Bold Therapeutics' BOLD-100 is a first-in-class ruthenium-based small molecule therapeutic that (1) alters the unfolded protein response (UPR) through selective GRP78 inhibition; and (2) induces reactive oxygen species (ROS) which causes DNA damage and cell cycle arrest. BOLD-100's multimodal mechanism-of-action synergizes with virtually all other anti-cancer drugs. Bold Therapeutics' ongoing Phase 1b/2 trial (NCT04421820) evaluates BOLD-100 in combination with FOLFOX (folinic acid / leucovorin, fluorouracil, and oxaliplatin) in patients with advanced gastrointestinal cancers. The trial has currently enrolled 106 patients with advanced gastrointestinal (bile duct, colorectal, gastric, and pancreatic) cancers, and the primary endpoint for the trial was progression-free survival (PFS), with overall survival (OS) and overall response rate (ORR) as secondary endpoints. Disease control rate (DCR) was also captured.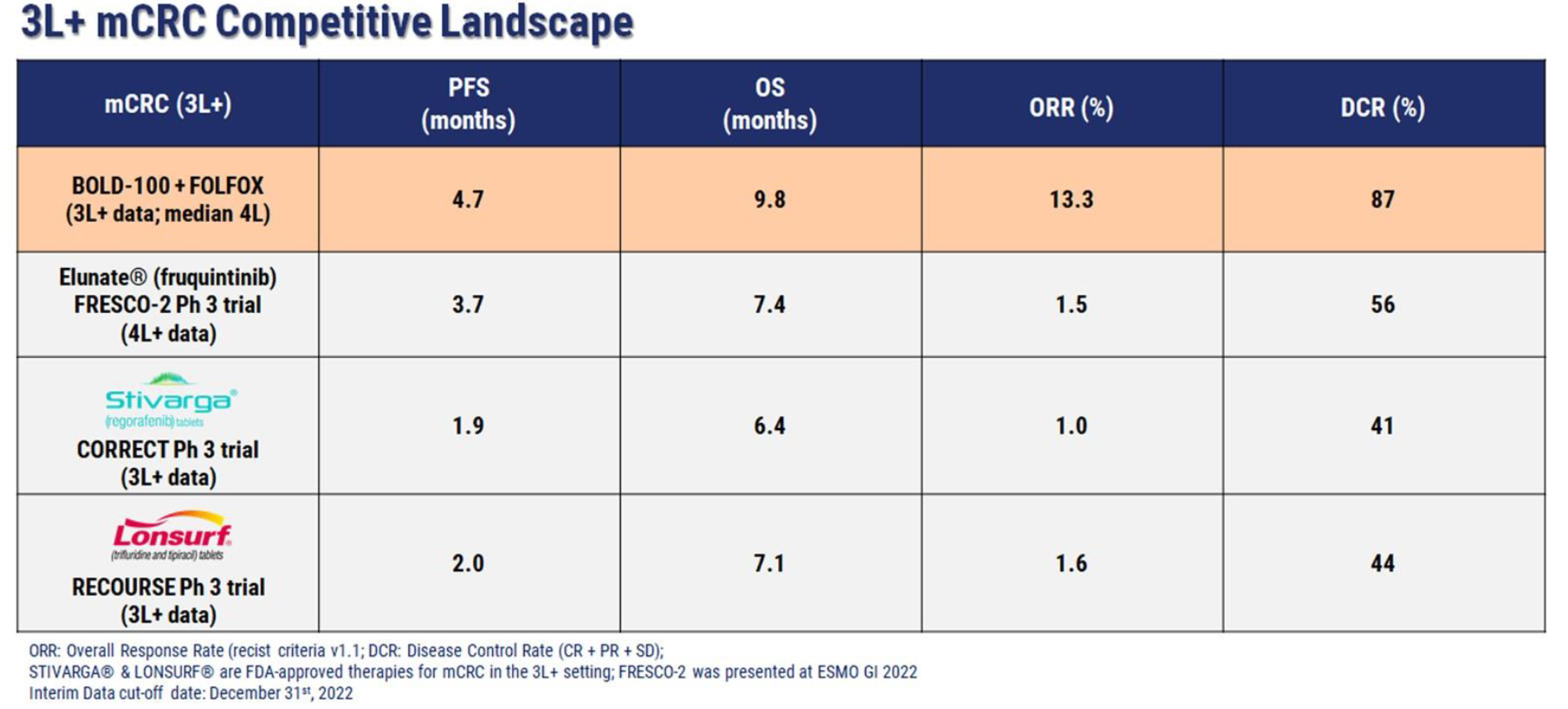 Data from 17 patients with advanced metastatic colorectal cancer was presented in clinical poster (#CT149) entitled "BOLD-100-001 (TRIO039): a Phase 1b/2a Dose-Escalation Study of BOLD-100 in Combination with FOLFOX Chemotherapy in Patients with Pre-treated Advanced Colorectal Cancer: Interim Efficacy, Safety and Tolerability Analysis."
Patients were treated with BOLD-100 and FOLFOX, and the results from this difficult-to-treat patient group showed a median PFS of 4.7 months, OS of 9.8 months, ORR of 13%, and DCR of 87%, substantially higher than standard-of-care data (Bayer's Stivarga® and Taiho's Lonsurf®) for a similar patient population which showed a median PFS of 2.0 months, OS of 7.1 months, ORR of only 1.5%, and DCR of 44%, with some of the most remarkable outcomes for BOLD-100 in late-line patients that had previously failed on FOLFOX alone. In addition, BOLD-100 in combination with FOLFOX was exceptionally well-tolerated, with no new safety signals, with patients remaining on therapy for up to 15 treatment cycles.
"We are extremely pleased to announce this positive interim Phase 2 data at AACR and look forward to sharing even more clinical data in the coming months at ASCO. These results clearly demonstrate that BOLD-100 has the potential to significantly improve treatment outcomes in both solid and liquid tumors, beginning with advanced colorectal cancer, one of the most difficult-to-treat solid tumor indications" said E. Russell McAllister, CEO of Bold Therapeutics. "Perhaps most importantly, these remarkable results were achieved with a safety and tolerability profile that is almost indistinguishable from FOLFOX alone."
Interim Phase 2 results in bile duct and gastric cancer have already been accepted for presentation at the upcoming American Society of Clinical Oncology (ASCO) conference in June, and data from the full Phase 2 trial, which will include an additional 20 patients with advanced colorectal cancer, should be available in late 2023. BOLD-100 has already been granted orphan drug designations (ODDs) in gastric and pancreatic cancer and expects additional ODDs and/or breakthrough therapy designations (BTDs) expected in 2023 and 2024. With a posterior probability of beating standard-of-care of 100% in PFS and 83% in OS in a head-to-head trial, Bold Therapeutics expects to initiate a pivotal Phase 3 trial for BOLD-100 in the treatment of advanced colorectal cancer in the near future and is currently evaluating potentially synergistic global development and commercialization partnerships. Concurrently, Bold Therapeutics is exploring additional development indications for BOLD-100 while also advancing its pipeline of other novel metallotherapeutics.
For more information, please visit Bold Therapeutics' website at www.bold-therapeutics.com.
Additional information on AACR https://www.aacr.org/meeting/aacr-annual-meeting-2023/
Source: Bold Therapeutics Inc.
Contact: E. Russell McAllister, CEO
rm@bold-therapeutics.com